$39.99
AUD
Category: FANTASY | Series: The\Firemane Saga Ser.
Hatushaly and his young wife Hava are living a good life, working to reopen the burned-out Inn of the Three Stars in the prosperous trading town of Beran's Hill.But there is a great deal more to this bucolic scene than meets the eye. Both Hatu and Hava were raised on the secret island of Coaltachin, and though they may appear to be no more than a young couple in love, preparing for the midsummer festival where their friends Declan and Gwen will be wed, they are in fact assassins on a mission, waiting instructions from their masters in the Kingdom of Night.Moreover, Hatu is the last remaining member of the ruling family of Ithrace – the legendary Firemanes. He dyes his flaming red hair, and has studied to control his dangerous magical powers. But however hard Hatu may be hiding from all those who would seek to use or to destroy him, fate has other plans.Horrific events are approaching Beran's Hill, bringing death and devastation to the peaceful town as unknown and monstrous forces are unleashed. And nothing will ever be the same again.   ...Show more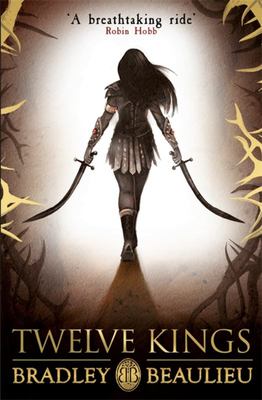 $22.99
AUD
Category: FANTASY | Series: The\Song of the Shattered Sands Ser.
In the cramped west end of Sharakhai, the Amber Jewel of the Desert, #65533;eda fights in the pits to scrape a living. She, like so many in the city, pray for the downfall of the cruel, immortal Kings of Sharakhai, but she's never been able to do anything about it. This all changes when she goes out on the night of Beht Zha'ir, the holy night when all are forbidden from walking the streets. It's the night that the asirim, the powerful yet wretched creatures that protect the Kings from all who would stand against them, wander the city and take tribute. It is then that one of the asirim, a pitiful creature who wears a golden crown, stops #65533;eda and whispers long forgotten words into her ear. #65533;eda has heard those words before, in a book left to her by her mother, and it is through that one peculiar link that she begins to find hidden riddles left by her mother. As #65533;eda begins to unlock the mysteries of that fateful night, she realizes that the very origin of the asirim and the dark bargain the Kings made with the gods of the desert to secure them may be the very key she needs to throw off the iron grip the Kings have had over Sharakhai. And yet the Kings are no fools-they've ruled the Shangazi for four hundred years for good reason, and they have not been idle. As #65533;eda digs into their past, and the Kings come closer and closer to unmasking her, #65533;eda must decide if she's ready to face them once and for all. ...Show more
$17.99
AUD
Category: FANTASY | Series: Throne of Glass | Reading Level: Teen - Grade 7-9, Age 12-14
The New York Times bestselling Throne of Glass series reaches new heights in this action-packed, heart-wrenching and fantastically addictive sequel to Sarah J. Maas's epic YA fantasy debut Eighteen-year-old Celaena Sardothien is bold, daring and beautiful the perfect seductress and the greatest assassin her world has ever known. But though she won the King 's contest and became his champion, Celaena has been granted neither her liberty nor the freedom to follow her heart. Celaena faces a choice that is tearing her to pieces- kill in cold blood for a man she hates, or risk sentencing those she loves to death. Celaena must decide what she will fight for- survival, love or the future of a kingdom. Because an assassin cannot have it all ... And trying to may just destroy her. ...Show more
$17.99
AUD
Category: FANTASY | Series: Throne of Glass | Reading Level: Teen - Grade 7-9, Age 12-14
Read the book that started the phenomenon. Sarah J. Maas's New York Times bestselling Throne of Glass series has taken the world by storm. Meet Celaena Sardothien. Beautiful. Deadly. Destined for greatness. In the dark, filthy salt mines of Endovier, an eighteen-year-old girl is serving a life sentence. She is a trained assassin, the best of her kind, but she made a fatal mistake. She got caught. Young Captain Westfall offers her a deal- her freedom in return for one huge sacrifice. Celaena must represent the prince in a to-the-death tournament - fighting the most gifted thieves and assassins in the land. Live or die, Celaena will be free. Win or lose, she is about to discover her true destiny. But will her assassin's heart be melted' ...Show more
$19.99
AUD
Category: FANTASY | Series: Book of the Ancestor Ser.
Second novel in the brilliant new series from the bestselling author of PRINCE OF THORNS. In Mystic Class Nona Grey begins to learn the secrets of the universe. But so often even the deepest truths just make our choices harder. Before she leaves the Convent of Sweet Mercy Nona must choose her path and take the red of a Martial Sister, the grey of a Sister of Discretion, the blue of a Mystic Sister or the simple black of a Bride of the Ancestor and a life of prayer and service. All that stands between her and these choices are the pride of a thwarted assassin, the ambition of a would-be empress wielding the Inquisition like a blade, and the vengeance of the empire's richest lord. As the world narrows around her, and her enemies attack her through the system she has sworn to, Nona must find her own path despite the competing pull of friendship, revenge, ambition, and loyalty. And in all this only one thing is certain. There will be blood. ...Show more
$22.99
AUD
Category: FANTASY | Reading Level: very good
The bestselling author of Neverwhere returns with his biggest, most commercial novel yet--a tour de force of contemporary fiction A master of inventive fiction, Neil Gaiman delves into the murky depths where reality and imagination meet. Now in American Gods, he works his literary magic to extraordinary results. Shadow dreamed of nothing but leaving prison and starting a new life. But the day before his release, his wife and best friend are killed in an accident. On the plane home to the funeral, he meets Mr. Wednesday--a beguiling stranger who seems to know everything about him. A trickster and rogue, Mr. Wednesday offers Shadow a job as his bodyguard. With nowhere left to go, Shadow accepts, and soon learns that his role in Mr. Wednesday's schemes will be far more dangerous and dark than he could have ever imagined. For beneath the placid surface of everyday life a war is being fought --and the prize is the very soul of America. ...Show more
$29.99
AUD
Category: FANTASY | Series: Crescent City
#1 New York Times bestselling author Sarah J. Maas launches her brand-new CRESCENT CITY series with House of Earth and Blood; the story of half-Fae and half-human Bryce Quinlan as she seeks revenge in a contemporary fantasy world of magic, danger, and searing romance.   Half-Fae, half-human Bryce Quinla n loves her life. By day, she works for an antiquities dealer, selling barely legal magical artifacts, and by night, she parties with her friends, savoring every pleasure Lunathion—otherwise known as Crescent City—has to offer. But it all comes crumbling down when a ruthless murder shakes the very foundations of the city—and Bryce's world. Two years later, her job has become a dead end, and she now seeks only blissful oblivion in the city's most notorious nightclubs. But when the murderer attacks again, Bryce finds herself dragged into the investigation and paired with an infamous Fallen angel whose own brutal past haunts his every step. Hunt Athalar, personal assassin for the Archangels, wants nothing to do with Bryce Quinlan, despite being ordered to protect her. She stands for everything he once rebelled against and seems more interested in partying than solving the murder, no matter how close to home it might hit. But Hunt soon realizes there's far more to Bryce than meets the eye—and that he's going to have to find a way to work with her if they want to solve this case. As Bryce and Hunt race to untangle the mystery, they have no way of knowing the threads they tug ripple through the underbelly of the city, across warring continents, and down to the darkest levels of Hel, where things that have been sleeping for millennia are beginning to stir... With unforgettable characters and page-turning suspense, this richly inventive new fantasy series by bestselling author Sarah J. Maas delves into the heartache of loss, the price of freedom—and the power of love.   ...Show more
$19.99
AUD
Category: FANTASY | Series: Kingkiller Chronicles | Reading Level: General Adult
Sequel to the extraordinary THE NAME OF THE WIND, THE WISE MAN'S FEAR is the second instalment of this superb fantasy trilogy from Patrick Rothfuss. This is the most exciting fantasy series since George R. R. Martin's A SONG OF ICE AND FIRE, and a must-read for all fans of HBO's GAME OF THRONES. Pickin g up the tale of Kvothe Kingkiller once again, we follow him into exile, into political intrigue, courtship, adventure, love and magic ... and further along the path that has turned Kvothe, the mightiest magician of his age, a legend in his own time, into Kote, the unassuming pub landlord. Packed with as much magic, adventure and home-grown drama as THE NAME OF THE WIND, this is a sequel in every way the equal to its predecessor and a must-read for all fantasy fans. Readable, engaging and gripping THE WISE MAN'S FEAR is the biggest and the best fantasy novel out there. ...Show more
$29.99
AUD
Category: FANTASY | Series: The\Children of D'Hara Ser.
'The Sword of Truth series was my masterwork. Yet, life for these characters goes on after the conclusion of that series. For years readers have been asking about Richard and Kahlan's children. This is that story' TERRY GOODKIND. In 1994 Wizard's First Rule introduced Richard Cypher, a young woodsman s eeking answers and vengeance in the aftermath of his father's murder, and Kahlan Amnell, a mysterious young woman pursued by a bloodthirsty tyrant's assassins. The Sword of Truth is one of the most ambitious fantasy series ever written. It was a decades-long masterwork that has been translated into 20 languages and sold 26 million copies. After 16 volumes and one novella, it concluded in 2016 with Warheart. The Children of D'Hara picks up immediately after the conclusion of the Sword of Truth series. The story will be told in installments, as novella-length episodes published every three months. Into Darkness is the fifth novella. ...Show more
$22.99
AUD
Category: FANTASY | Series: The\Firemane Saga Ser. | Reading Level: good
A new novel from internationally bestselling author Raymond E. Feist. The world of Garn once boasted five great kingdoms, until the King of Ithrace was defeated and every member of his family executed by Lodavico, the ruthless King of Sandura, a man with ambitions to rule the world. Ithrace's ruling fam ily were the legendary Firemanes, and represented a great danger to the other kings. Now four great kingdoms remain, on the brink of war. But rumour has it that the newborn son of the last king of Ithrace survived, carried off during battle and sequestered by the Quelli Nacosti, a secret society whose members are trained to infiltrate and spy upon the rich and powerful throughout Garn. Terrified that this may be true, and that the child will grow to maturity with bloody revenge in his heart, the four kings have placed a huge bounty on the child's head. In the small village of Oncon, Declan is apprenticed to a master blacksmith, learning the secrets of producing the mythical king's steel. Oncon is situated in the Covenant, a neutral region lying between two warring kingdoms. Since the Covenant was declared, the region has existed in peace, until violence explodes as slavers descend upon the village to capture young men to press as soldiers for Sandura. Declan must escape, to take his priceless knowledge to Baron Daylon Dumarch, ruler of Marquensas, perhaps the only man who can defeat Lodavico of Sandura, who has now allied himself with the fanatical Church of the One, which is marching across the continent, imposing its extreme form of religion upon the population and burning unbelievers as they go. Meanwhile, on the island of Coaltachin, the secret domain of the Quelli Nacosti, three friends are being schooled in the deadly arts of espionage and assassination: Donte, son of one of the most powerful masters of the order; Hava, a serious girl with fighting abilities that can set any opponent on their back; and Hatu, a strange, conflicted lad in whom fury and calm war constantly, whose hair is a bright and fiery shade of red... ...Show more
$32.99
AUD
Category: FANTASY
In the late 1800s, three sisters use witchcraft to change the course of history in Alix E. Harrow's powerful novel of magic and the suffragette movement. In 1893, there's no such thing as witches. There used to be, in the wild, dark days before the burnings began, but now witching is nothing but tidy ch arms and nursery rhymes. If the modern woman wants any measure of power, she must find it at the ballot box. But when the Eastwood sisters -- James Juniper, Agnes Amaranth, and Beatrice Belladonna -- join the suffragists of New Salem, they begin to pursue the forgotten words and ways that might turn the women's movement into the witch's movement. Stalked by shadows and sickness, hunted by forces who will not suffer a witch to vote -- and perhaps not even to live -- the sisters will need to delve into the oldest magics, draw new alliances, and heal the bond between them if they want to survive. There's no such thing as witches. But there will be. For more from Alix E. Harrow, check out The Ten Thousand Doors of January. ...Show more