$16.99
AUD
Category: KIDS BOARD BOOKS
Meet Bingo! Bingo Heeler loves getting lost in her own world, talking to tiny bugs and, of course, relaxing in her relaxing chair! Get to know all about Bluey's little sister in this fun shaped board book. Bluey has been a phenomenal success since airing on ABC KIDS in October 2018, amassing legions of dedicated fans and taking the coveted position of being the most watched program ever on ABC iView, with over 170 million plays. It has also topped the Australian iTunes Kids Chart with the series peaking at #1 and consistently remaining in the Top 5. ...Show more
$16.99
AUD
Category: KIDS BOARD BOOKS
Everyone loves Bandit, especially Bluey and Bingo! Find out what makes this true blue dad so special in this hilarious and heartwarming book. Bluey has been a phenomenal success since airing on ABC KIDS in October 2018, amassing legions of dedicated fans and taking the coveted position of being the most watched program ever on ABC iView, with over 200 million plays.  ...Show more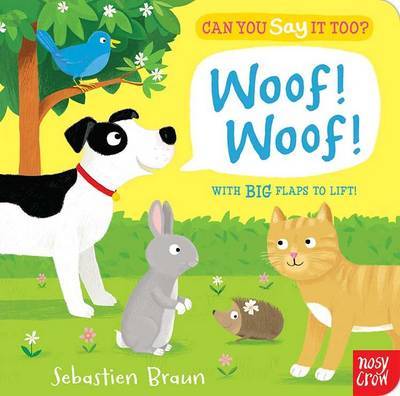 $12.99
AUD
Category: KIDS BOARD BOOKS | Series: Can You Say It Too?
With sturdy flaps and simple text, this is a great first book for sharing with children who are just starting to talk. One of a set of four.
$14.99
AUD
Category: KIDS BOARD BOOKS | Series: Bluey
Join Bluey for a fun day at the beach. What will you discover along the way? While Mum is off for a walk along the beach, Bluey discovers a beautiful shell. She runs to show Mum and has a series of encounters that will both excite and test her in unexpected ways. Bluey has been a phenomenal success si nce airing on ABC KIDS in October 2018, amassing legions of dedicated fans and taking the coveted position of being the most watched program ever on ABC iView, with over 100 million plays. It has also topped the Australian iTunes Kids Chart with the series peaking at #1 and consistently remaining in the Top 5. ...Show more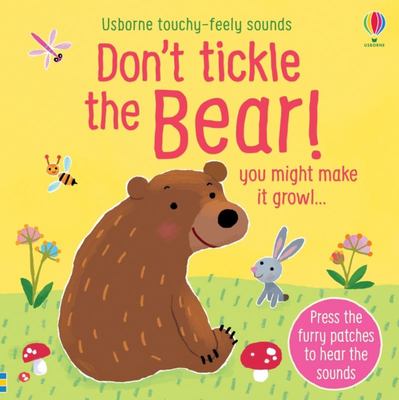 $24.99
AUD
Category: KIDS BOARD BOOKS | Series: Touchy-Feely Sound Bks.
You shouldn't tickle the bear... you might make it growl - but it might be hard to resist! Little children will love pressing the touchy-feely patches to make the sounds in this hilarious book. When you tickle the soft patch on each charmingly illustrated animal, it triggers a noise... and then at the e nd you can hear all the animals being noisy at the same time. Combines touchy-feely with sounds and die-cut holes. A perfect gift for little children. The fourth title in a very exciting new series of baby books. ...Show more
$24.99
AUD
Category: KIDS BOARD BOOKS | Series: Read and Play
Introducing a new and interactive series: Read and Play! You must never touch a dinosaur... except in this set! Children will love reading the funny rhyme that warns of the dangers of touching a dinosaur-and then ignoring the advice! There is also six roar-some dinosaur toy models!
$16.99
AUD
Category: KIDS BOARD BOOKS
Hello, I am Little Fish, swimming in the sea. I love playing with all my friends, come along with me! Explore exciting textures with Little Fish and his friends in this fun, interactive touch-and-feel book with a bouncy rhyming text. Babies and toddlers will love exploring the world of Little Fish in an other deep-sea delight from Lucy Cousins, multi-award-winning creator of Hooray for Fish! With vibrant artwork and playful imaginative underwater creatures, little ones will be enthralled by Little Fish's bumpy, fluffy, rough, crinkly, shiny and squidgy friends!   ...Show more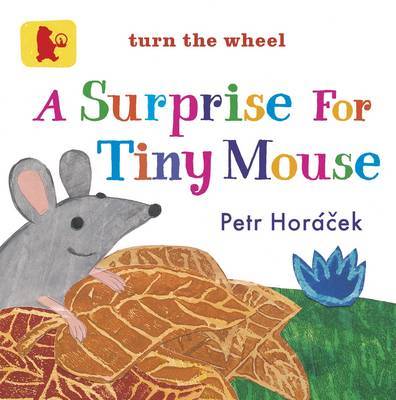 $12.99
AUD
Category: KIDS BOARD BOOKS
This is a turn-the-wheel concept book from the award-winning Petr Horacek. Tiny Mouse loves nibbling corn in the sunshine. She loves the crackle of the leaves in the wind. She even loves the snowflakes when they tickle her nose. But when the rain starts to fall, Tiny Mouse runs for her hole. What will m ake her come out? Little fingers will love to turn the wheel and reveal a beautiful rainbow at the end of the book. An evocative board book about different kinds of weather by the award-winning illustrator, Petr Horacek. It includes a turn-the-wheel element, designed to engage attention and improve co-ordination. Petr Horacek has been shortlisted for the prestigious Kate Greenaway Medal. ...Show more
$12.99
AUD
Category: KIDS BOARD BOOKS | Series: Little Fish
Join Little Fish and his friends as they splash beneath the sea! This bright and colourful waterproof book is perfect for bathtime, high-chair fun and on the go. Hello, I am Little Fish, happy as can be. I love to splash and splish. Come and swim with me! Dip and dive beneath the waves with Little Fish and his friends! This waterproof adventure is the perfect book for bathtime, high-chair fun and on the go. ...Show more
$16.99
AUD
Category: KIDS BOARD BOOKS
Take your toddler on a frozen adventure in this lift-the-flap pop-up book. This wintry pop-up peekaboo book follows Polly Penguin as she searches for Charlie Chick. Babies and toddlers can lift big flaps and see five peekaboo surprises pop up from the pages- a sleepy seal resting on the rocks, a huge w hale swimming to the surface of the ocean, a colourful squid exploring a shipwreck, a beautiful bird preparing to take flight, and a huddle of adorable penguins keeping each other cosy and warm. The lively, read-aloud rhymes encourage literacy and early learning, while the surprise pop-up scenes will delight curious preschoolers. With the help of parents and caregivers, toddlers will have fun turning the sturdy board book pages, guessing what's hiding under each flap, and then lifting the flaps to reveal the adorable winter animals and play peekaboo! Ideal for interactive preschool play, Pop-up Peekaboo! Penguin will appeal to both parents and children and is certain to keep little ones entertained time and time again! ...Show more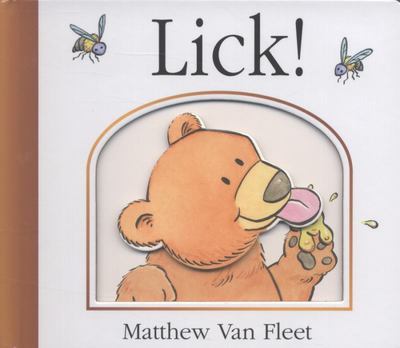 Lick!
by Matthew Van Fleet
$16.99
AUD
Category: KIDS BOARD BOOKS
Give toddlers a taste of this deliciously adorable, interactive novelty book that's the perfect size for little hands, from #1 New York Times bestselling creator Matthew Van Fleet. From the creator of the New York Times bestselling Heads and Tails, four clever pull-tabs and seven tickly textures put tod dlers face-to-face with captivating critters who prove that tongues can do much more than taste! This hands-on read-aloud is sure to become a bedtime—and anytime—favorite. ...Show more